Declarations and certificates are not enough to stop climate change
The consequences of climate change are being much talked about throughout the world. However, even the exceptional projects of large corporations and the focus on renewable energy sources and pollution reduction are more a nice exception than the trend. We talk more than we act. This is how the present situation in Lithuania can be described. Nevertheless, there are now fewer myths and obstacles to a breakthrough: renewable green energy is not only important for the future but is easily accessible and pays off. 
Europe's ambitious plan to become the first climate-neutral continent by 2050 gives hope that business across Europe, including in Lithuania, will try to implement sustainability more rapidly. Lithuania's own ambitions are no less modest. In a decade, 50% of the country's electricity consumption should be derived from renewable sources. More precisely, the government has set an objective to have a network consisting of wind parks of 1.2 GW and solar power plants of 1 GW in five years.  
"These goals require more speed and more involvement than before, especially in the field of solar energy. There are various implications, but one of the problems is that there are many green initiatives in Lithuania, which are often aimed at improving the image, but not actually at fighting climate change. Compared to the situation a decade ago, progress is obvious and there is more awareness of the issue. But change is still too slow," says Ruslan Sklepovič, the CEO of Green Genius, the renewable energy company.  
The company, which belongs to the Modus Group, implements solar and biogas energy projects in Europe. It currently operates 14 solar parks and 11 biogas plants in Lithuania, which are good examples of successful business cooperation. However, the fight against climate change is still often tackled by communication, marketing and, in some cases, personnel teams in organizations, says Mr Sklepovič. Due to the lack of involvement of board members, owners, CFOs and CEOs, the real economic benefits of projects often remain underestimated, and decision-making takes too long. 
ECONOMIC REASON
Renewable energy experts claim that business is still put off by persistent myths about expensive and unprofitable green energy. The reality changed a long time ago: ways to reduce CO2 emissions in Lithuania are simple and do not necessarily require major investment. 
"We often hear CEOs say that allegedly they are not an energy company, they do not have experience, and do not want to invest. But businesses that want to operate in the green sector do not have to worry about experience in the energy field or major investment. Any company that consumes electricity, which means everyone without exception, should ask themselves one simple question: can I buy electricity from a new solar or wind park," says Mr Sklepovič. 
According to him, Lithuania has one of the most innovative regulations of electricity from remote power plants, so businesses can quite easily purchase electricity from various solar power plants in Lithuania. It is not only environmentally friendly, but also a cost-effective solution that reduces the cost of electricity. 
If there is a willingness and opportunity to invest more, one can acquire part of a remote solar park. It is not necessary to become an energy guru. Specialised companies such as Green Genius undertake to find the right land and the best technical solutions, to obtain all the permits, and to finance as well as monitor the entire project. 
"It doesn't matter if the decision is to focus on business and buy green electricity or buy a part of a power plant that will be built and maintained by professionals. These all allow us to make a real difference," says Mr Sklepovič. He adds that the production of more sustainable electricity in Lithuania reduces the opportunities for unsafe and unsustainable electricity from eastern neighbours to enter the market. That should also be a valid argument for action.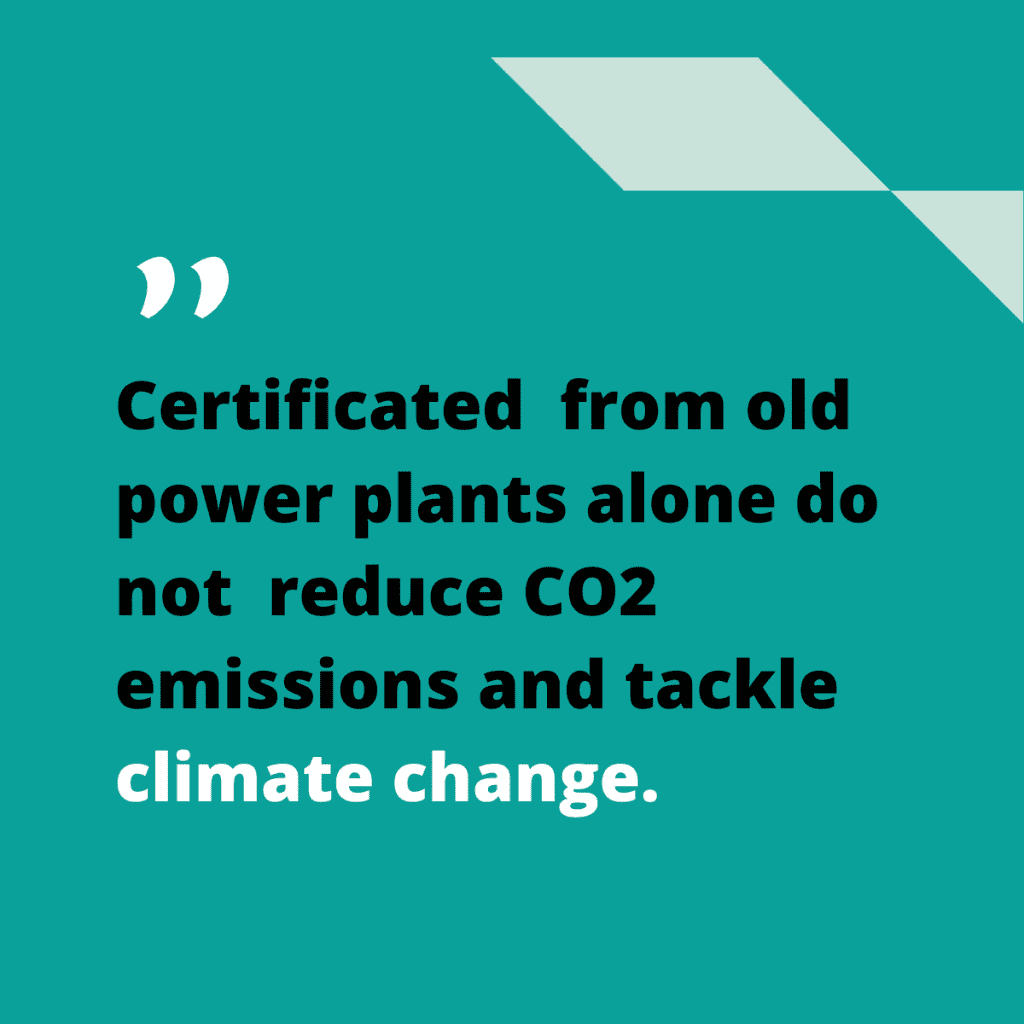 NEW CAPACITY IS NEEDED FOR REAL CHANGE
Mr Sklepovič highlights that it is important not to be fooled by sustainable projects. For example, the established practice of buying green certificates in Lithuania sounds good, but in fact does not contribute to the development of renewable energy sources. Many old sources of green energy – hydroelectric power plants-built decades ago, old, subsidized power plants that have been certified by some countries – are active in the markets. Certificated from old power plants alone do not reduce CO2 emissions and tackle climate change.
"In order to reduce global CO2 emissions and climate change, it is necessary to build new solar, wind and other renewable power plants, to have more capacity to replace the dominance of previous energy sources," says the CEO of Green Genius.  
Business can encourage and kick-start this process. Technology giants such as Google or Facebook, which have already announced that they have become CO2 neutral, are setting an example. Google achieved this goal back in 2007. However, it has committed to eliminate its footprint from the past. It intends to invest in renewable energy to compensate for the entire CO2 footprint of the company from the start of operations in 1998 by 2030. Incidentally, the company has already been using electricity only from renewable sources. 
"Green electricity will soon become a necessity for business. I think we can have interesting and outstanding examples in Lithuania as well," says the CEO of Green Genius. 
 Original article: https://www.vz.lt/tvarus-verslas/2021/01/21/klimato-kaitos-stabdymui-vien-deklaraciju-ir-sertifikatu-neuzteks