It's easier than you think: sustainability is just one step away
Over 70% of Lithuanian business managers say that they care about reducing their environmental impact and think that this is important for their business. However, according to a survey commissioned by the international renewable energy company Green Genius and performed by Norstat, only 10% of companies have ever actually measured their carbon footprint. The reason for such a great disparity between ambition and action could lie in fear of change. In truth, initiating environmentally-friendly change is quite simple and requires little effort.   
According to this survey, only 21% of Lithuanian companies partake in environmentally-friendly initiatives such as recycling, choosing sustainable work tools, using green energy, and so on. However, this is a relatively low figure – especially considering that the overwhelming majority of business managers claim to understand the importance and obligation of protecting our environment.  
A large number of managers were aware of the methods that help make businesses more sustainable. For example, 86% knew that they could purchase electricity produced from renewable sources in Lithuania. Others emphasised choosing recycled, environmentally-friendly alternatives to the items they use in their daily operations, encouraged recycling practises, and pursued other means of sustainability.   
A difference in attitude 
"There are two types of customer: those who concern themselves with environmental issues, and those who don't care at all.  Business managers who consider environmental impact important can also be split into two groups. Some companies have only just taken their first steps towards reducing their carbon footprint; although they understand its significance, they dedicate little attention to analysing proposed sustainable solutions. On the other hand, some companies lead the charge by seeking sustainable solutions for themselves as well as the country they operate in", observed Karolis Proscevičius, head of sales at Green Genius, reflecting on the wildly inconsistent attitudes of Lithuanian businesses towards sustainability.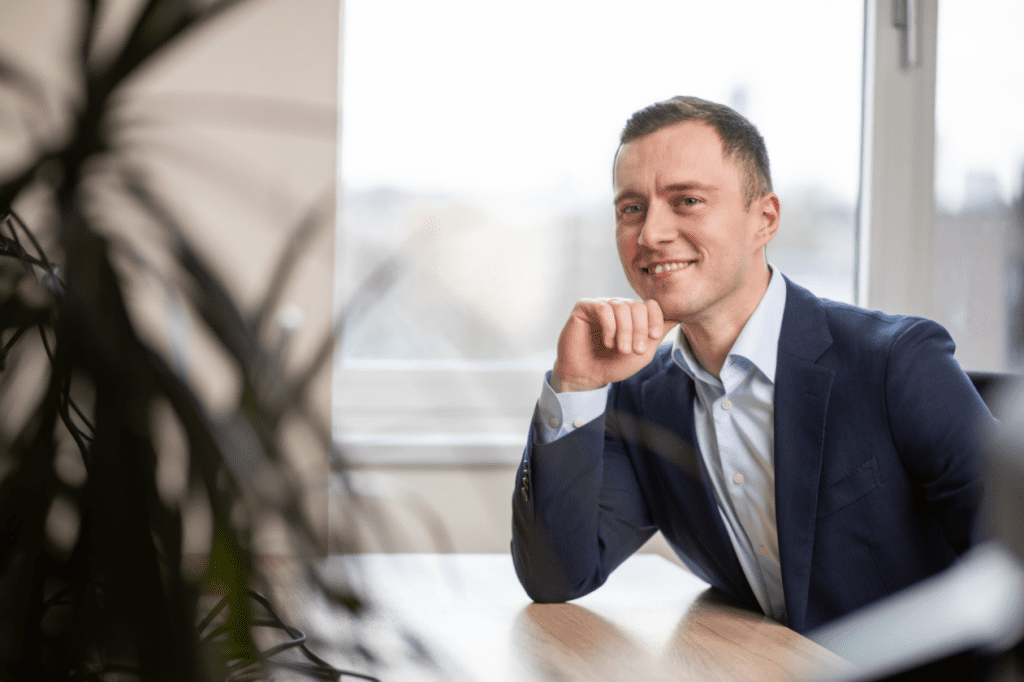 Karolis Proscevičius, Green Genius Sales Team Manager.
According to Mr Proscevičius, as little as three years ago investment in rental options or even entire solar energy projects in Lithuania was limited to Scandinavian subsidiaries. Meanwhile, other green energy investment proposals consisted mostly of educating potential consumers about the benefits of green energy. Now, however, most large companies in Lithuania are not only aware of solar energy solutions, but are actively making use of them.  
"Most of the larger companies have already chosen—one way or another—to reduce the environmental impact of their operations. We hope that this wave of awareness will expand out to other businesses. Companies certainly feel compelled by their customers, partners, and the general public, but they sometimes fear change itself", added Mr Proscevičius. 
One step away 
According to Mr Proscevičius, the main motivators behind businesses choosing solar energy are: a lower carbon footprint, environmental protection, and local connections. If a solar power plant is located in the same region as a company, then the company is more inclined to support such a project. The money-saving factor is an added benefit that matters to every company. However, some businesses see no reason to change, feeling that there is neither a great need nor a tangible benefit.  
Mr Proscevičius also noted that "Decisions made by small- and medium-sized companies heavily depend on the views of their managers. Some managers have other priorities, others simply don't have the time or even the inclination to change". This process is also hindered by an inconsistent regulatory environment for businesses as electricity-producing consumers. It's a common misconception to think that the path to sustainability involves significant upheaval—the long process of becoming an electricity-producing consumer, additional invoices, and a host of other factors.   
In reality, service providers take care of everything.  
Mr. Proscevičius explains: "In the case of Green Genius, we build the solar power plant, maintain it, and submit all the paperwork, whereas the customer signs a contract and receives green energy and monthly invoices just like they used to with regular electricity". 
Food waste can be useful 
Climate change is one of the most urgent issues facing the world today. In order to become a carbon-neutral country by 2050—a goal that Lithuania set itself—efforts must be made by individuals in terms of their responsible behaviour in every-day choices, alongside the pro-active approach of businesses, organisations, and institutions. 
Switching to sustainable, renewable energy is not the only means of making a move towards sustainability—a responsible attitude towards internal business processes is of equal value. For example, many companies produce a steady flow of waste. We are used to sorting plastic, glass, and paper for recycling, but companies also generate a substantial amount of biodegradable waste—food, for example. 
One of the most sustainable solutions for biodegradable waste is the production of biogas. This method allows for waste to be processed sustainably, limiting the emission of greenhouse gases into the atmosphere. Food waste rotting in forests or landfills produces carbon dioxide as well as methane, with the latter being 25 times more corrosive to the ozone layer and accelerating climate change. The biogas production process contains these gases and prevents them from entering the atmosphere. Biogas also produces electricity, heat, and fertiliser—additional by-products which can be returned to the consumption chain. 
The survey of business managers demonstrated that biogas is a lesser-known concept than solar energy among Lithuanian businesses. According to the survey, 63% of respondents knew what biogas is and what it is made of, but only around half (52%) realised that biogas facilities can reduce the emission of greenhouse gasses. 
Ms Ieva Punytė, head of development at Green Genius, notes that repurposing food waste is advantageous to individual households and food-waste-producing businesses alike. After all, businesses—especially supermarkets, food producers, food service establishments, and hotels (in truth, the entire HORECA sector)—generate a substantial amount of food waste, which could be managed in an environmentally-friendly way that benefits society.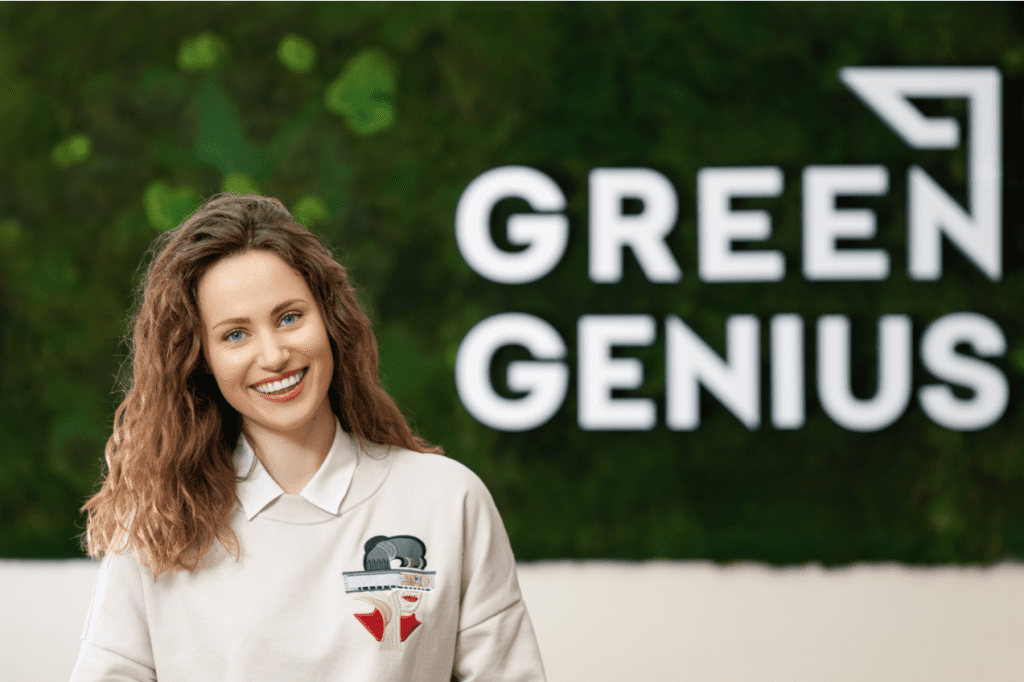 Ieva Punytė, Green Genius Development Project Manager.
Measuring impact 
According to Ms Punytė, measuring a company's environmental impact should be part of the first step towards sustainability – i.e., observing change and carefully assessing all of the processes in the chain of operations. Quantifying environmental impact makes it much easier to manage the process of sustainability and make the right decisions in pursuit of the best possible results. 
So far, only 7% of the Lithuanian companies who participated in this survey actually performed these calculations. This figure demonstrates that only a small number of companies examine environmental sustainability in any great detail. Despite mounting pressure from partners and consumers, many companies are hesitant to adopt sustainability principles for fear of massive perceived change. However, Ms Punytė believes that simple yet effective solutions can be adopted here and now, without waiting for them to become necessary.   
"Of course, after examining the main areas of a specific company's environmental impact, it would be worthwhile to consider the various sustainable solutions already available. I can assure you that sustainability does not require you to reinvent the wheel—all you need to do is choose a pre-existing solution and perhaps familiarise yourself with it in greater detail. For example, before getting involved in sustainable waste management our partners tend to visit our biogas plants to investigate the processes and green technologies, making the most of their involvement", revealed Ms Punytė. She also added that such actions display a mature and responsible attitude to sustainability.  
Green Genius biogas plants recycle 360,000 tons of secondary animal products and waste from the food and agriculture industries annually—waste that would otherwise end up in forests, nature, or landfills. 
International renewable energy company Green Genius develops solar and biogas projects all over Europe. 
Original article: https://www.vz.lt/tvarus-verslas/2021/05/13/paprasciau-nei-galvojote-tvaresnei-veiklai-uztenka-tik-vieno-zingsnio