Green Genius —
energia słoneczna dla firm
Dostarczamy energię z naszych elektrowni słonecznych zainstalowanych w Polsce.
Energia słoneczna może być dostarczana za pomocą:
Farmy fotowoltaicznej znajdującej się poza terenem zakładu
Dostawy do 100% zielonej energii dzięki elastycznym umowom PPA. Rozwijamy farmy fotowoltaiczne w Polsce i zapewniamy firmom możliwość zakupu wyprodukowanej energii elektrycznej. Jest to najpopularniejszy i najłatwiejszy sposób wykorzystania zielonej energii.
Instalacji fotowoltaicznej znajdującej się na dachu
Gwarantujemy do 20% dostaw zielonej energii oraz istotne oszczędności. Firmy ceniące certyfikaty BREEAM, LEED oraz posiadające wystarczającą powierzchnię dachową, wybierają energię słoneczną z dachu – rozwiązanie zrównoważone architektonicznie.
Korzyści
Korzyści finansowe
Dzięki odnawialnym zasobom, możesz obniżyć swoje rachunki za energię elektryczną i zaoszczędzić pieniądze, bez potrzeby zakupu urządzeń.
Większa swoboda i elastyczność
Wykorzystując energię elektryczną z elektrowni fotowoltaicznej zmniejsza się zależność od dostawców prądu.
Pozytywne skutki dla środowiska
Wykorzystanie odnawialnych źródeł energii pozytywnie wpłynie na środowisku i przyczyni się do zahamowania zmian klimatycznych. Korzystając z energii słońca mają państwo wpływ na transformację energetyczną Polski.
Jak to działa?
Firma Green Genius dba o wszystko: od znalezienia właściwej działki, po budowę elektrowni oraz jej utrzymanie. Państwo natomiast płacicie jedynie za zużytą energię elektryczną.
PRZYGOTOWUJEMY OFERTĘ
Po przeprowadzeniu oceny potrzeb w zakresie zużycia energii elektrycznej, wybieramy najbardziej odpowiednie dla Państwa rozwiązanie.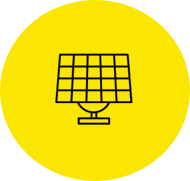 OPRACOWUJEMY
Opracowujemy i budujemy własną elektrownię fotowoltaiczną o wymaganej mocy.

ZAŁATWIAMY FORMALNOŚCI
Zapewniamy dokumenty niezbędne do sprawnych dostaw energii elektrycznej.
ZAPEWNIAMY CIĄGŁE UTRZYMANIE
Zapewniamy płynną pracę elektrowni.
Dlaczego jesteśmy zaufanym partnerem?
150 MW
Ponad 150 MW mocy zainstalowanej
8
Działalność na 8 rynkach
Udzielimy odpowiedzi na Państwa pytania i zapewnimy optymalne rozwiązanie!
Wypełnij formularz po prawej stronie lub wyślij e-mail:
hello@greengenius.pl