Czy farma fotowoltaiczna może powstać na nierównym terenie?
Trwający w naszym kraju boom na fotowoltaikę nabrał w ostatnich latach nowego wymiaru. W całej Polsce powstają farmy solarne, które dzięki wysokiej mocy zasilają przedsiębiorstwa, samorządy, jak również produkują prąd, który trafia następnie na aukcje energii pochodzącej ze źródeł odnawialnych. W niedalekiej przyszłości fotowoltaika stanie się, obok energii wiatrowej oraz wodnej, jednym z najważniejszych filarów polskiego miksu energetycznego.
Z dobrej koniunktury korzystają nie tylko środowisko oraz konsumenci, którzy mogą liczyć na niższe rachunki za prąd, ale również właściciele gruntów rolnych o niskiej klasie gleby. To właśnie one są idealnym miejscem pod budowę elektrowni. Polskie prawo zezwala inwestorom na dzierżawę gruntów rolnych pod budowę farmy fotowoltaicznej. Umowa jest zazwyczaj podpisywana na okres 29 lat, co dla właściciela ziemi oznacza stały pasywny dochód, wynoszący aktualnie kilkanaście tysięcy złotych rocznie z jednego hektara, który co roku waloryzowany jest o stopę inflacji. Na jakim terenie może powstać farma fotowoltaiczna? Jakie są główne wymagania dotyczące ziemi? Czy inwestycja może być zrealizowana także na nierównym terenie? Wyjaśniamy!
Dzierżawa gruntu pod fotowoltaikę – jakie kryteria powinna spełniać działka?
Na wstępie warto przypomnieć kryteria, jakie powinna spełniać ziemia, aby dzierżawa gruntu pod fotowoltaikę była możliwa, a właściwie opłacalna z punktu widzenia inwestora. Oto najważniejsze spośród nich, na które zwracamy uwagę w Green Genius:
Odpowiednia klasa gleby – farmy fotowoltaiczne są budowane przede wszystkim na terenie charakteryzującym się IV, V lub VI klasą bonitacyjną gleby. Takie rozwiązanie jest często zbieżne z interesami wydzierżawiających, szczególnie gdy wysiłek włożony w prace rolne nie przekłada się na zadowalające efekty w postaci dorodnych plonów, a co za tym idzie mniejszą rentowność upraw i większe ryzyko. Czynsz czerpany z dzierżawy ziemi stanowi zaś pewny dochód bez inwestycji.
Powierzchnia wynosząca minimum 2 ha – na mniejszych powierzchniach budowa farmy fotowoltaicznej wiązałaby się z niską stopą zwrotu z inwestycji. Na terenie farmy oprócz ogniw fotowoltaicznych muszą znaleźć się także inne elementy infrastruktury, w tym falowniki solarne przekształcające energię na prąd zmienny. Poza tym inwestycja wiąże się z kosztami stałymi, takimi jak ogrodzenie terenu lub doprowadzenie przyłącza. W Green Genius oprócz optymalnej powierzchni zwracamy również uwagę na szerokość działki, która powinna wynosić minimum 50 m.
Bliskość sieci elektroenergetycznej – naturalnie przekłada się na niższe koszty doprowadzenia przyłącza, co zwiększa rentowność inwestycji.
Brak obszarów chronionych – elektrowni nie można wybudować na obszarach takich jak Natura 2000.
Brak MPZP – miejscowy plan zagospodarowania przestrzennego nie może wykluczać budowy elektrowni fotowoltaicznej.
Warto pamiętać, że każda działka podlega indywidualnej ocenie pod względem możliwości wybudowania na niej farmy solarnej.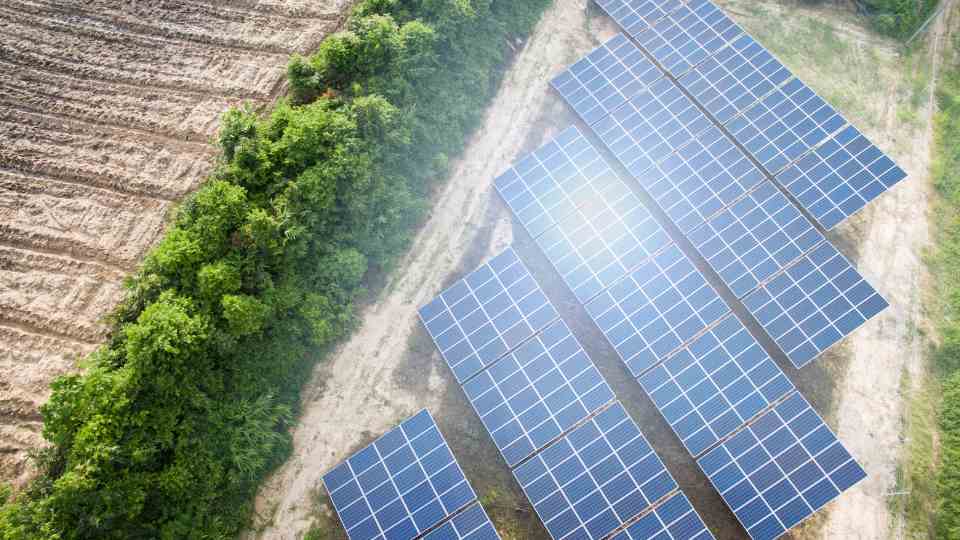 Czy farma fotowoltaiczna może powstać na nierównym terenie?
Z technicznego punktu widzenia nie istnieją przeszkody, aby farma fotowoltaiczna powstała na nierównym terenie. W idealnej sytuacji działka jest płaska lub nachylona na południe, co w naszej szerokości geograficznej pozwala bez przeszkód skierować panele w stronę słońca i maksymalnie wykorzystać ich wydajność.
Ewentualne nierówności terenu mogą komplikować projekt, najczęściej jednak nie uniemożliwiają jego realizacji. W grę wchodzą prace ziemne wyrównujące podłoże. Jeśli teren jest pagórkowaty, panele fotowoltaiczne można również ustawić pod zróżnicowanym nachyleniem, w taki sposób, aby każdy z nich skierować optymalnie w stronę słońca.
Poważnym wyzwaniem dla inwestora bywają natomiast tereny wilgotne i podmokłe, co niekiedy wynika z ukształtowania terenu. Wówczas grunt może wymagać zaawansowanych prac melioracyjnych, które znacznie zwiększają koszty inwestycji. Zalanie infrastruktury znajdującej się w elektrowni solarnej jest bowiem poważnym zagrożeniem dla jej funkcjonowania.
Jak charakterystyka terenu wpływa na wysokość czynszu?
Ukształtowanie terenu, podobnie jak jego powierzchnia, stopień nasłonecznienia oraz bliskość sieci elektroenergetycznej w dużej mierze determinują koszty inwestycji, a co za tym idzie jej opłacalność. Ostatecznie to właśnie od tych czynników zależy także wysokość czynszu, na jaki może liczyć wydzierżawiający. Im więcej mocy uda się wygenerować z danej powierzchni, tym na większy zysk może liczyć właściciel działki. Jednocześnie konieczność wykonania prac ziemnych prowadzi do wzrostu kosztów inwestycji, co może obniżyć wysokość czynszu.
W jaki sposób sprawdzić, czy działka nadaje się do budowy farmy fotowoltaicznej?
Posiadacze gruntów rolnych o nierównym ukształtowaniu terenu, którzy pragną czerpać zysk z dzierżawy ziemi pod fotowoltaikę, nie powinni z góry dyskwalifikować swoje nieruchomości. W Green Genius potencjał każdej działki oceniamy indywidualnie.
Z tego względu naszych potencjalnych partnerów zapraszamy do bezpłatnego audytu działki. Wystarczy wypełnić formularz znajdujący się na naszej stronie. Następnie do właściciela nieruchomości zgłosi się konsultant z prośbą o podanie numeru ewidencyjnego działki. Jeśli spełnia ona wymagane kryteria, nic nie stoi na przeszkodzie, abyśmy podpisali notarialnie umowę dzierżawy i rozpoczęli długą, owocną współpracę!