Dlaczego warto stawiać na energię słoneczną?
Odnawialne źródła energii to jeden z kluczowych elementów transformacji energetycznej, jaką aktualnie przechodzi Polska. Wśród nich szczególną rolę odgrywa energia słoneczna, zarówno w skali gospodarstw domowych, jak i w skali makro. Chociaż w naszym kraju wciąż można znaleźć sceptyków uważających, że nasłonecznienie w Polsce jest zbyt słabe, by czerpać energię ze słońca, stale rosnąca liczba instalacji fotowoltaicznych i coraz niższe koszty tej technologii jednoznacznie dowodzą, że jest ona opłacalna. Dziś prezentujemy główne argumenty przemawiające za stosowaniem energii słonecznej w gospodarstwach domowych i przedsiębiorstwach.
Sposób na oszczędności
Przede wszystkim odnawialne źródła energii, a w tym energia słoneczna, to realny sposób na obniżenie rachunków za prąd. Technologia jest coraz tańsza, a domowa instalacja fotowoltaiczna może powstać nawet za kilkanaście tysięcy złotych. Inwestor ma do wyboru dwa rozwiązania – magazynowanie energii za pośrednictwem coraz mniej kosztownych akumulatorów albo rolę prosumenta – czyli oddawanie nadwyżek do sieci, a w razie niedoboru pobieranie prądu w cenie niższej o 80% lub 70%. Oba warianty są opłacalne i powinny się zwrócić po najwyżej 10 latach. Energia słoneczna w skali domu może być czerpana z paneli fotowoltaicznych umieszczonych na płaskim lub spadzistym dachu budynku, najlepiej zwróconych w kierunku południowym, bo z tej strony nasłonecznienie w Polsce jest najbardziej efektywne.
Ponadto w Polsce panuje dobra koniunktura dla inwestorów decydujących się na przejście na odnawialne źródła energii. Mogą oni liczyć na pokaźne dofinansowania ze środków publicznych, podatkową ulgę termomodernizacyjną, ale również liczne programy samorządowe.
Z taniej energii słonecznej w podobny sposób mogą skorzystać też przedsiębiorstwa. Wystarczy wspomnieć, że przy dobrym projekcie ulokowania paneli fotowoltaicznych na dachu, odnawialne źródło energii pokrywa nawet 20% firmowego zapotrzebowania na prąd. Inną opcję stanowi budowa poza terenem zakładu elektrowni, która może pokryć nawet 100% zapotrzebowania na energię elektryczną!
Troska o środowisko
Dla coraz większej grupy Polaków, a w tym polskich przedsiębiorstw, które dążą do zrównoważonego rozwoju, niebagatelne znaczenie ma troska o środowisko. W tym kontekście energia słoneczna stanowi idealny wybór. Oczywiście, sama produkcja ogniw i pozostałych urządzeń związanych z instalacją pochłania nieco energii, a także generuje pewne toksyczne substancje, jednak w ostatecznym rozrachunku zanieczyszczenie środowiska przez to odnawialne źródło energii jest znikome. Szczególnie w porównaniu z wciąż dominującymi w Polsce elektrowniami węglowymi, a nawet powszechnie uważanych za ekologiczne gazowymi. Warto pamiętać, że panele fotowoltaiczne to urządzenia o bardzo długiej żywotności, a producenci gwarantują zachowanie ich efektywności przez co najmniej 25-30 lat.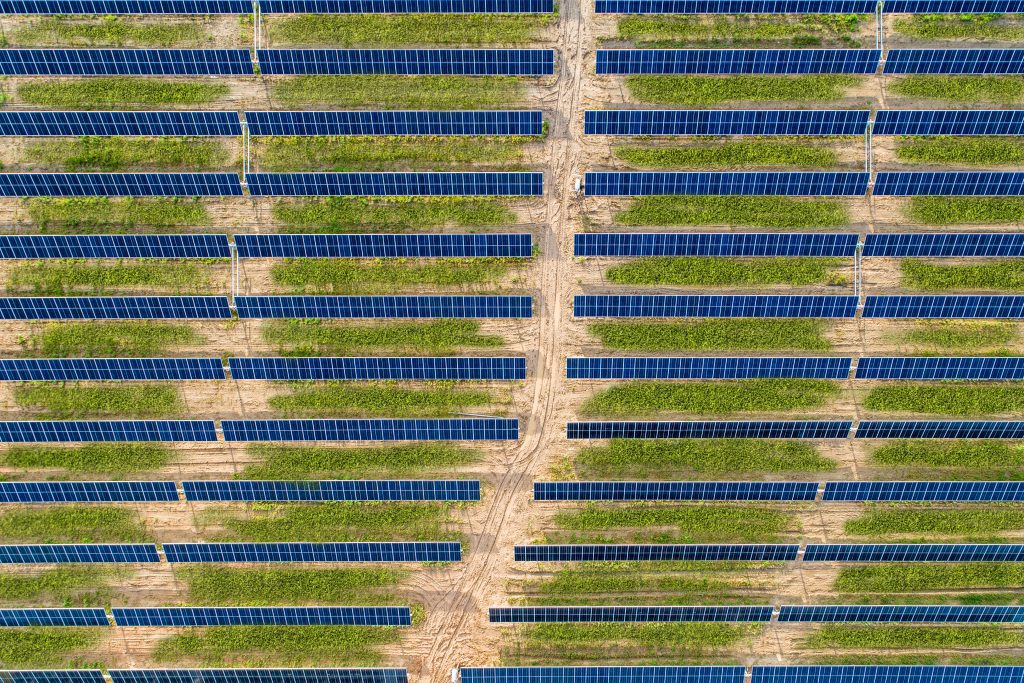 Niezależność od dostawców energii elektrycznej
Wracając do argumentów ekonomicznych, wykorzystanie energii słonecznej to świetny sposób na uzyskanie całkowitej lub częściowej niezależności od dostawców energii, zależnie od rodzaju instalacji. Ceny energii elektrycznej w ostatnich latach regularnie rosną, co prywatni odbiorcy odczuwają na razie w ograniczonym zakresie, w przeciwieństwie do przedsiębiorstw, które nie korzystają ze stawek wyznaczanych przez Urząd Regulacji Energetyki. Nie wydaje się, by w najbliższej przyszłości ten trend miał się zmienić. Jednocześnie fotowoltaika staje się coraz tańszą technologią, a same ogniwa wraz z pozostałymi urządzeniami tworzącymi instalację zapewniają coraz wyższą efektywność.
Nasłonecznienie w Polsce jest wystarczające dla efektywności fotowoltaiki
Omawiając korzyści wynikające z wyboru odnawialnego źródła energii, jakim niewątpliwie jest energia słoneczna, warto rozprawić się z pewnym mitem, według którego nasłonecznienie w Polsce jest zbyt słabe, aby instalacje fotowoltaiczne osiągały wystarczającą efektywność. Wykorzystywane aktualnie panele są projektowane tak, by pracowały efektywnie w konkretnych warunkach, czyli 1000 kWh/m2 oraz w temperaturze 25°C.
Jeśli chodzi o pierwsze kryterium, średnie nasłonecznienie w Polsce wynosi właśnie 1000 kWh/m2. Z kolei w temperaturach powyżej 25°C efektywność ogniw fotowoltaicznych się obniża. Z tego względu w naszym kraju nie panują gorsze warunki do fotowoltaiki niż w wielu innych, kojarzonych z ciepłym klimatem. Nad Wisłą można mówić co najwyżej o dużej amplitudzie nasłonecznienia w skali roku. Najwyższe jest w maju, czerwcu, lipcu i sierpniu, a dość niskie od października do lutego. Jednak stosunkowo dużo słońca, w połączeniu z możliwością magazynowania energii lub oddawania nadwyżek do sieci sprawia, że fotowoltaika jest w naszym kraju bardzo opłacalna.
Działka pod fotowoltaikę, czyli gwarantowany zysk bez ryzyka
Na korzyści wynikające z wykorzystywania energii słonecznej warto spojrzeć z jeszcze jednej perspektywy – właścicieli dużych działek o niskiej klasie gleby, na których prowadzenie upraw jest nieopłacalne lub ryzykowne. Taki teren, o powierzchni co najmniej 2 hektarów, szerokości przynajmniej 50 m i spełniający jeszcze kilka prostych kryteriów, świetnie nadaje się jako działka pod fotowoltaikę. Właściciel ziemi nie musi szukać środków na inwestycję w elektrownię, bo opłacalnym rozwiązaniem jest dzierżawa terenu inwestorowi, np. Green Genius. To znakomity sposób na zapewnienie sobie lub przyszłym pokoleniom stałego dochodu na podstawie trwającej 29 lat umowy i alternatywa bardziej opłacalna niż zalesianie nieużytku.