Jak projektowane są farmy słoneczne?
W najbliższych latach, przechodząca transformacją energetyczną, Polska prawdopodobnie pokryje się gęstą siecią farm fotowoltaicznych. Rozwiązanie coraz powszechniej wykorzystywane w gospodarstwach domowych, ze względu na spadające ceny technologii, staje się bardziej opłacalne i przynoszące szybki zwrot z inwestycji również w skali makro. Budowa farmy słonecznej ma sens na odpowiednim gruncie, przede wszystkim płaskim, posiadającym wystarczająco dużą powierzchnię i pozbawionym przeszkód terenowych oraz prawnych. Osobną kwestię stanowi projektowanie farm słonecznych, zdobycie niezbędnych pozwoleń, jak również wybór modułów i falowników solarnych.
Konstrukcja PV na gruncie pozwala na stworzenie elektrowni słonecznej o mocy od kilku do nawet kilkudziesięciu MW. Jak przebiega projektowanie farm słonecznych? Komu opłaca się zostać dzierżawcą gruntu pod tę konstrukcję, a komu odbiorcą energii elektrycznej czerpanej ze słońca?
Budowa farmy słonecznej – wybór gruntu
U podstaw projektowania farm słonecznych stoi optymalna działka pod fotowoltaikę. Nie każdy teren nadaje się do tego w równym stopniu, ale w Polsce znalezienie odpowiednich gruntów nie stanowi większego problemu. Budowa farmy słonecznej to dobry sposób na zagospodarowanie nieużytków, na których uprawa roślin jest nieopłacalna lub zbyt ryzykowna finansowo ze względu na niską jakość gleby. Konstrukcja PV na gruncie o takiej charakterystyce jest dla właściciela bardziej opłacalna niż zalesienie działki. Z tych względów projektowanie farm słonecznych dotyczy gruntów odznaczających się glebami o niskiej klasie bonitacyjnej, czyli IV, V lub VI. To pierwszy warunek, jaki stawiają inwestorzy.
Oprócz tego, przy wyborze gruntu pod budowę farmy słonecznej, zwraca się uwagę na ukształtowanie terenu, który powinien być płaski, albo – w naszej szerokości geograficznej – nachylony w kierunku południowym. Ziemia powinna być wolna od przeszkód terenowych, takich jak rowy melioracyjne lub drzewa. Ważną rolę odgrywa dostęp do drogi publicznej, podobnie jak znajdująca się w pobliżu stacja elektroenergetyczna lub linia energetyczna. Farmy fotowoltaiczne stawia się na terenach nienależących do obszaru Natura 2000, nieposiadających Miejscowego Planu Zagospodarowania Przestrzennego lub dla których w taki plan uwzględnia możliwość usytuowania farmy PV.
Właścicieli działek o powierzchni przynajmniej 2 ha i szerokości co najmniej 50 m zachęcamy do rozważenia dzierżawy gruntu pod budowę farmy słonecznej. Partnerzy Green Genus mogą liczyć na:
długofalowy zysk (przez co najmniej 29 lat),
transparentne zasady współpracy,
załatwienie przez dzierżawcę wszelkich formalności związanych z inwestycją.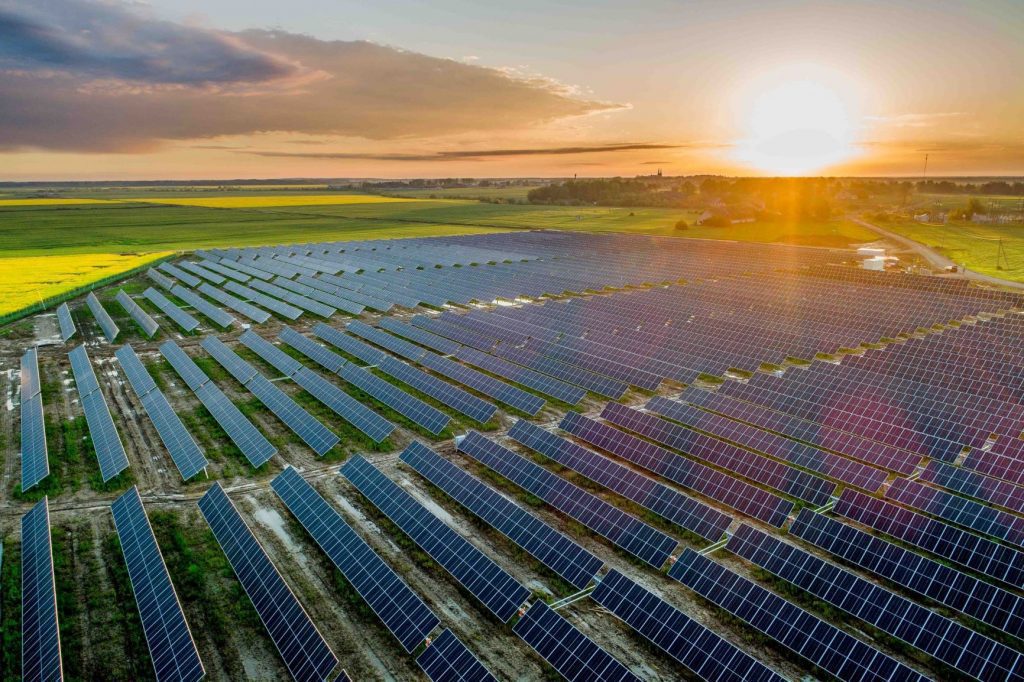 Projektowanie farm słonecznych – dokumentacja
Właściwe projektowanie farm słonecznych rozpoczyna się od sporządzenia dokładnej mapy projektowej. Stanowi ona punkt wyjścia do dalszych etapów prac. Inwestor planujący konstrukcję PV na gruncie musi między innymi zdobyć decyzję o warunkach przyłączenia. Odbywa się to poprzez złożenie stosownego wniosku do operatora sieci dystrybucji. W ciągu dwóch tygodni należy wpłacić obowiązkową zaliczkę na poczet przyłączenia, a następnie operator ma aż 150 dni na rozpatrzenie złożonego wniosku. Farmy fotowoltaicznej, z wyjątkiem niedużych konstrukcji, których powierzchnia nie przekracza 1ha, nie można też wybudować bez otrzymania decyzji środowiskowej.
Oprócz tego, projektowanie farm słonecznych wymaga przygotowania projektu koncepcyjnego. Dzięki niemu możliwe jest określenie mocy przyszłej farmy słonecznej, która wynika z możliwości umieszczenia na gruncie określonej liczby modułów fotowoltaicznych. Na tym etapie powstaje też koncepcja techniczna inwestycji oraz wybór urządzeń – przede wszystkim odpowiednich paneli fotowoltaicznych, a także falowników solarnych. Ich zadaniem jest przekształcanie otrzymywanego na farmie prądu stałego w prąd zmienny, który później trafi do sieci. W tym drugim przypadku wybór określonych rozwiązań pozwala ograniczyć straty wynikające z panujących warunków atmosferycznych. W europejskich realiach falownik nie jest w stanie osiągnąć swojej nominalnej mocy. Jednym z wyników projektu koncepcyjnego jest wstępny kosztorys całej inwestycji.
Kolejny etap projektowania farmy słonecznej stanowi projekt budowlany, który obejmuje między innymi projekty zagospodarowania terenu, architektoniczno-budowlany i techniczny. Cała ta dokumentacja jest niezbędna, aby móc uzyskać pozwolenie na budowę. Dopiero wówczas konstrukcja PV na gruncie, a także innych urządzeń, instalacji oraz okablowania może się rozpocząć. Projektowanie farm słonecznych wymaga zatem sporej wiedzy i doświadczenia, którymi chętnie służymy naszym partnerom!
Odbiorcy energii elektrycznej z farm fotowoltaicznych
Oferta Green Genius obejmująca projektowanie farm słonecznych, a następnie ich budowę jest skierowana także do przedsiębiorstw, które pragną oszczędzać, korzystając z przyjaznej środowisku energii słonecznej. Najpopularniejsze rozwiązanie stanowi budowa farmy słonecznej poza terenem przedsiębiorstwa, z którego nasz partner może zaspokoić nawet 100% swojego zapotrzebowania na energię elektryczną. Oprócz budowy farm słonecznych możemy naszym klientom zaproponować także stworzenie instalacji fotowoltaicznej na dachu budynku. Jesteśmy jednym z europejskich liderów w dziedzinie energii odnawialnej, a na terenie Polski zrealizowaliśmy już szereg projektów o łącznej mocy instalacji 128MW!