Jak przygotować się do budowy farmy fotowoltaicznej?
Odnawialne źródła energii odgrywają ogromną rolę w transformacji energetycznej Polski. Przyszłość należy do fotowoltaiki. Obecnie, jak grzyby po deszczu, powstają farmy solarne, często o mocy, która pozwala zasilać w energię elektryczną przedsiębiorstwa czy całe gminy. Przed właścicielami gruntów rolnych, którzy nie chcą decydować się na uprawę ziemi otworzyła się ciekawa perspektywa – możliwość wydzierżawienia działki pod fotowoltaikę.
Aktualnie wysokość czynszu z tytułu dzierżawy, jest uzależniona jest od wielu czynników, sięga nawet kilkunastu tysięcy złotych z jednego hektara rocznie. To doskonały sposób na czerpanie pasywnego dochodu bez konieczności ponoszenia kosztów inwestycji. Umowa dzierżawy jest zazwyczaj podpisywana na okres 29 lat. Uważasz, że na twoje działce może powstać farma fotowoltaiczna? Jak szukać inwestora zainteresowanego jej budową? Jak przygotować się na rozpoczęcie dzierżawy, gdy inwestor uzyska pozwolenie na budowę? Jaką formę opodatkowania czynszu wybrać i jak uniknąć dodatkowych kosztów? Wyjaśniamy!
Farma fotowoltaiczna – jak zacząć poszukiwania inwestora?
Dzierżawa gruntu pod fotowoltaikę bywa naprawdę opłacalnym interesem z punktu widzenia właściciela ziemi. Pasywny dochód nie wymaga inwestycji, a jednocześnie jest dziedziczony wraz z samą ziemią. W ten sposób można zabezpieczyć swój interes finansowy bez ryzyka fiaska, a także zadbać o przyszłość bliskich. Właściciel gruntów nie musi również przejmować się formalnościami związanymi z zakładaniem farmy. Wystarczy znaleźć godnego zaufania inwestora. Jak zacząć poszukiwania?
W pierwszej kolejności upewnij się, że twoja działka spełnia wymagane kryteria. W Green Genius jesteśmy zainteresowani gruntami, które:
mają powierzchnię przynajmniej 2 ha oraz szerokość 50 m;
znajdują się w pobliżu sieci elektroenergetycznej;
są płaskie lub nachylone na południe;
gleby o klasie IV, V bądź VI.
Dodatkowo ziemia nie powinna być objęta miejscowym planem zagospodarowania przestrzennego lub takowy nie powinien wykluczać udzielenia pozwolenia na budowę farmy fotowoltaicznej. Należy także mieć na uwadzę, że w przypadku terenów należących do obszarów chronionych, takich jak Natura 2000, istnieją możliwe utrudnienia, które mogą zaważyć na opłacalności inwestycji.
Oczywiście nie musisz sprawdzać tych wszystkich rzeczy. Wystarczy, żę skontaktujesz się z nami w celu przeprowadzenia bezpłatnego audytu. Zweryfikujemy, czy inwestycja będzie opłacalna i czy uda nam się zdobyć pozwolenia na budowę farmy fotowoltaicznej. W zamian za dzierżawę zyskasz stały dochód i wiarygodnego partnera, który prowadzi podobne inwestycje w Polsce od 2015 roku jako jeden z branżowych liderów.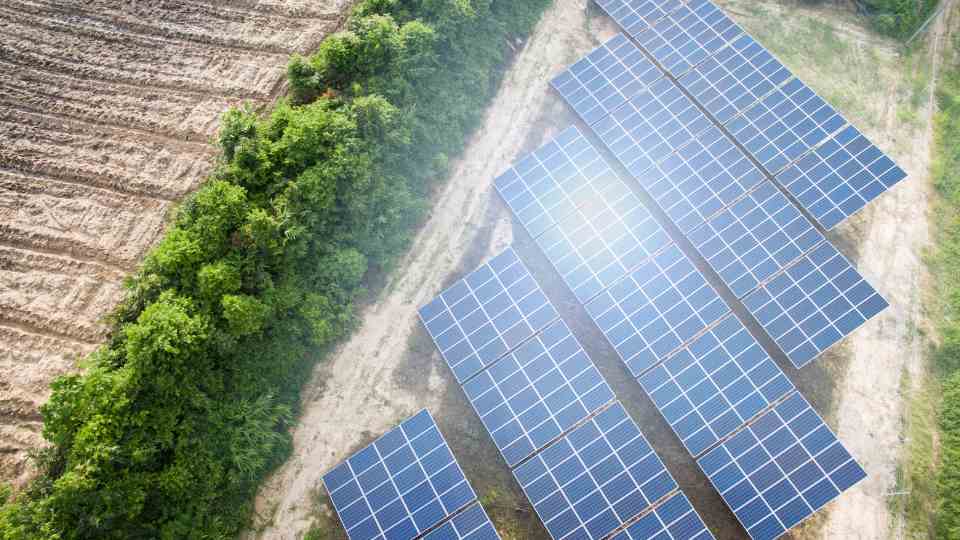 W jaki sposób korzystać z ziemi, zanim pozwolenie na budowę farmy fotowoltaicznej zostanie udzielone?
Udało ci się znaleźć inwestora i niebawem na twojej ziemi powstanie farma fotowoltaiczna? Jak zacząć przygotowania do inwestycji? Współpracując z rzetelnym partnerem, takim jak Green Genius, nie musisz martwić się już niczym więcej. To my załatwiamy wszelkie formalności związane z inwestycją, takie jak pozwolenie na budowę farmy fotowoltaicznej, projekt i zajmujemy się realizacją inwestycji.
Uzyskanie pozwolenia na budowę farmy fotowoltaiczne i innych niezbędnych dokumentów niekiedy trwa nawet dwa lata. Przez ten czas najpewniej będziesz mógł w dalszym ciągu korzystać ze swojej ziemi, na przykład uprawiając ją. Niełatwo jest precyzyjnie wyznaczyć termin rozpoczęcia budowy, jednak w Green Genius zależy nam na dobrej komunikacji z Partnerem i na bieżąco informować o postępie prac, umożliwiając korzystanie z gruntu.
Jak ochronić się przed inflacją?
Umowa dzierżawy ziemi pod farmę fotowoltaiczną jest zazwyczaj podpisywana na okres 29 lat. Łatwo sobie wyobrazić, jak bardzo, w tak długiej perspektywie czasu, dochody czerpane z czynszu mogą zostać pomniejszone przez inflację. Wydzierżawiając grunt inwestorowi, zadbaj o odpowiedni zapis w umowie, dzięki któremu czynsz będzie co roku waloryzowany o stopę inflacji. U nas jest to standardem.
Na jakie podatki należy się przygotować, wydzierżawiając grunt pod budowę farmy fotowoltaicznej?
Farma fotowoltaiczna, chociaż powstaje na gruntach rolnych, nie ma nic wspólnego z działalnością rolniczą. Ma to swoje konsekwencje podatkowe. Przygotowując się do dzierżawy działki, musisz wziąć to pod uwagę. Wydzierżawiony grunt nie będzie w trakcie trwania umowy objęty podatkiem rolnym. W zamian pojawi się konieczność zapłaty podatku od nieruchomości. Od twojej umowy z inwestorem będzie zależało, kto będzie pokrywał ten koszt w okresie dzierżawy.Do rozstrzygnięcia pozostaje kwestia podatku dochodowego od uzyskiwanego czynszu.
Jak zadbać o uporządkowanie gruntu po zakończeniu okresu dzierżawy?
Przygotowując się do dzierżawy gruntu dla farmy fotowoltaicznej i podpisując umowę z inwestorem, zadbaj o to, aby to właśnie on w przyszłości przywrócił teren do stanu pierwotnego. Demontaż oraz utylizacja ogniw i pozostałej infrastruktury wiązać się będą z kosztami.
Dobra koniunktura na fotowoltaikę sprawia, że bardzo łatwo znaleźć potencjalnego inwestora, który uzyska pozwolenie na budowę farmy fotowoltaicznej na twojej ziemi. Przygotowując się do dzierżawy, zadbaj o swoje interesy!