Jak wygląda proces instalacji fotowoltaiki?
Instalacje fotowoltaiczne biją w Polsce rekordy popularności. Od lat zauważamy wzrost zainteresowania OZE wśród różnych przedstawicieli konsumentów, którzy decydują się, by zostać prosumentami. Przekłada się to na ugruntowanie się rozwiązań z wykorzystaniem paneli solarnych w naszej świadomości społecznej, ale i na kolejny boom związany z energią słoneczną, którego świadkami jesteśmy obecnie. W naszym kraju ciągle powstają kolejne farmy solarne, natomiast łączna moc zainstalowana pochodząca z fotowoltaiki zdążyła już przekroczyć 10 GW. A to zaledwie początek procesu.
Jak działa taka instalacja fotowoltaiczna? Jak wygląda schemat instalacji fotowoltaiki krok po kroku? Kto może zostać inwestorem, a kto zarabiać na zielonej energii bez nakładów finansowych jako wydzierżawiający grunt?
Instalacja fotowoltaiczna na skalę lokalną – kolejny etap solarnej rewolucji
Aktualnie za ponad 20% z 10 GW mocy energii solarnej w Polsce odpowiadają już farmy słoneczne. Przeciętne gospodarstwo domowe odznacza się zużyciem na poziomie 2000-3000 kWh rocznie. Z kolei nieduża farma słoneczna o mocy 5 MW umiejscowiona na gruncie o powierzchni kilku hektarów jest w stanie wyprodukować średnio 5000 MWh, a więc 5 000 000 kWh energii elektrycznej rocznie. W ten sposób taka instalacja fotowoltaiczna na skalę makro pozwala na zasilenie w prąd około 2000 gospodarstw domowych.
Energia pochodząca z farmy słonecznej może być sprzedawana na aukcjach Energii Odnawialnej, które organizuje Urząd Regulacji Energetyki. Drugim sposobem sprzedaży energii są umowy cywilnoprawne. W ten sposób prąd trafia między innymi do polskich samorządów i przedsiębiorstw. Dla tych ostatnich znalezienie inwestora, który wybuduje farmę słoneczną jest ciekawą, a efektywną alternatywą, ponieważ elektrownia słoneczna może pokryć nawet 100% zapotrzebowania firmy.
Dlaczego polscy właściciele gruntów rolnych, na których mogłaby powstać duża instalacja fotowoltaiczna masowo nie decydują się na taki krok? Schemat instalacji fotowoltaiki jest dość skomplikowany. Budowa elektrowni wymaga posiadania know-how, przygotowania szczegółowego projektu i zdobycia niezbędnych pozwoleń. Kolejną barierę stanowią koszty. Sfinansowanie budowy niedużej farmy słonecznej wymaga z kolei zaciągnięcia kredytu na kilka milionów złotych. Dlatego duże instalacje fotowoltaiczne są realizowane przez doświadczone firmy zajmujące się OZE, w tym Green Genius. Jak zatem przebiega inwestycja?
Poszukiwanie idealnej lokalizacji do instalacji fotowoltaicznej
Wszystko zaczyna się od poszukiwania terenu pod budowę elektrowni. Działka pod fotowoltaikę musi spełniać kilka warunków, by zostać uznaną za odpowiednie miejsce na instalację wielkopowierzchniową. Należy pamiętać, że jej właściwe umiejscowienie przekłada się na efektywność instalacji fotowoltaicznej i opłacalność inwestycji. Według wymogów prawnych, terenami dopuszczonymi do konstrukcji fotowoltaicznych mogą być grunty o IV klasie ziemi lub niższej oraz nieużytki rolne. Ważne, by teren cechowała płaska powierzchnia i dobre nasłonecznienie. Powierzchnia nie może być też mała – zazwyczaj wymagana jest działka przynajmniej 2 ha o minimalnej szerokości 50 metrów. Istotne kryterium stanowi bliskość sieci elektroenergetycznej.
Uwzględnić trzeba także miejscowy plan zagospodarowania przestrzeni, który nie może wykluczać budowy farmy słonecznej i przygotować odpowiednie dokumenty poświadczające warunki przyłączeniowe, uzyskanie decyzji środowiskowej czy pozwolenia na budowę. Po dopełnieniu tych formalności można rozpocząć etapy przygotowawcze pod montaż instalacji, w tym projekt wykonawczy. Dobrze skrojony projekt jest niezwykle istotny. Umożliwi on maksymalne wykorzystanie wydzierżawionego gruntu przy uwzględnieniu ograniczeń danego terenu (np. rowów melioracyjnych).
Schemat instalacji fotowoltaiki – montaż
Przygotowanie terenu rozpoczyna się od równania powierzchni i ogrodzenia, które pozwoli na jak najszybszy przewóz poszczególnych elementów instalacji. Gdy podłoże jest gotowe, można przejść do kolejnych etapów. Na początku teren pod instalację jest palowany – w grunt "wbijana" jest konstrukcja, która zapewni infrastrukturze stabilność na cały okres działania. Następnie montowane są panele i dostarczana jest stacja transformatorowa. Później pojedyncze elementy, takie jak moduły, inwertery i stacja są łączone ze sobą kablami.
W momencie, gdy na działce konstruowana jest instalacja, operator sieci dystrybucyjnej wykonuje punkt przyłączeniowy (najczęściej w postaci słupa lub złącza kablowego). W przypadku farm PV o mocach kilku MW lub większych często zachodzi konieczność doprowadzenia przyłącza do najbliższego GPZ-u – Głównego Punktu Zasilającego, czyli stacji elektroenergetycznej, która stanowi niezbędny węzeł w systemach dystrybucyjnych. GPZ koordynuje odpowiedni przepływ prądu na danym obszarze – przekazuje wytworzoną energię do odbiorców i decyduje o przekierowaniu nadwyżek do innych sieci.
Potem przychodzi czas na połączenie instalacji z siecią przemysłową operatora dystrybucyjnego w punkcie przyłączeniowym. Na końcu następuje energetyzacja, a prąd trafia już do sieci. Całkowity czas trwania budowy jest trudny do określenia – w dużym stopniu zależy on od czynników pogodowych oraz gotowości punktu przyłączeniowego. Zakłada się jednak, że na konstrukcję 1MW potrzeba od 3 do 6 miesięcy.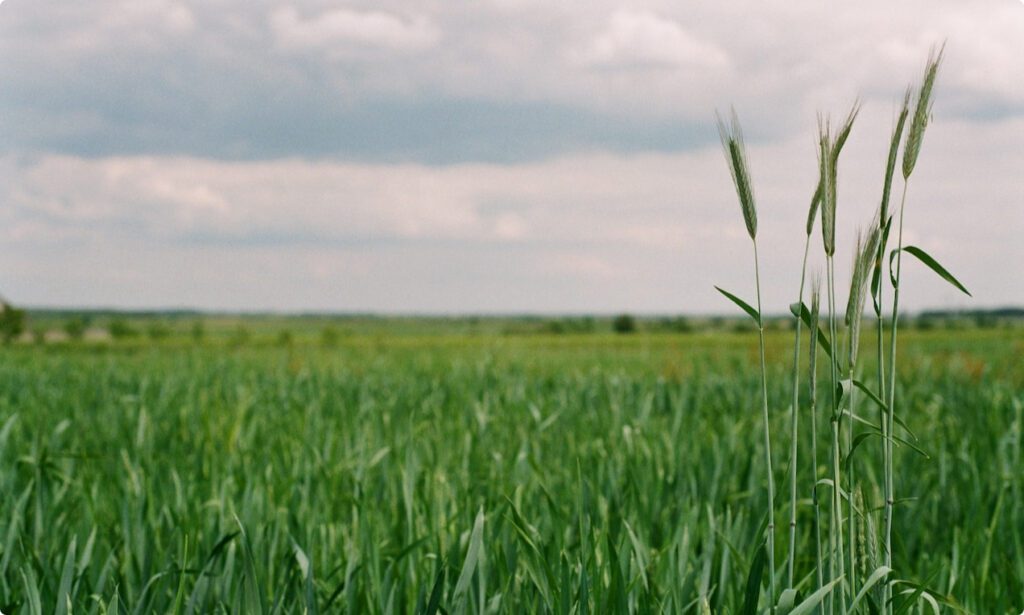 Działka pod fotowoltaikę, czyli dodatkowy dochód czerpany z zielonej energii!
Na fotowoltaice da się zarabiać nie tylko poprzez domową instalację lub wielomilionową inwestycję w farmę słoneczną. Posiadacze gruntów rolnych o niskiej klasie bonitacyjnej mają do dyspozycji ciekawe rozwiązanie, jakim jest dzierżawa gruntu pod fotowoltaikę inwestorowi. Umowa podpisana z inwestorem na 29 lat oznacza zapewnienie właścicielowi ziemi stałego dochodu waloryzowanego o wartość inflacji. Nieużytki rolne nie muszą wcale stać odłogiem. Wszystkich właścicieli ziemi zainteresowanych taką ofertą serdecznie zapraszamy do kontaktu i bezpłatnego audytu działki!