Jakie przepisy muszą spełniać grunty pod fotowoltaikę?
Na jakich gruntach mogą powstawać farmy fotowoltaiczne? Przepisy polskiego prawa determinują część wymagań, między innymi dotyczących klasy gleby czy ochrony środowiska. Pozostałe kryteria są wyznaczane przez inwestorów, którym naturalnie zależy na osiągnięciu jak największego zwrotu z inwestycji. Dziś przedstawiamy warunki, którymi powinny charakteryzować się grunty pod fotowoltaikę, aby zainteresować potencjalnego inwestora.
Boom na farmy fotowoltaiczne sprawił, że perspektywa dzierżawy gruntu pod fotowoltaikę stała się bardzo atrakcyjną opcją dla niezainteresowanych uprawą posiadaczy ziemi rolnej lub tych, którzy chcą zdywersyfikować dochody swojego gospodarstwa. Nie da się ukryć, że dochód z jednego hektara sięgający nawet kilkunastu tysięcy złotych rocznie, w dodatku waloryzowany o stopę inflacji, stanowi bardziej bezpieczny wybór niż naznaczona ryzykiem działalność rolnicza.
Farmy fotowoltaiczne – przepisy zezwalają na budowę wyłącznie przy niskiej jakości gleby
Zacznijmy od aspektów prawnych, jakie obowiązują grunty, na których mogą zostać postawione farmy fotowoltaiczne. Przepisy determinują jakość gleby występującej na danym terenie, by ograniczyć przeznaczanie tych najżyźniejszych pod konstrukcje PV. Dzierżawa gruntu pod fotowoltaikę jest możliwa wyłącznie na ziemiach o klasie bonitacyjnej IV, V lub VI. Farma PV może także zostać wybudowana na nieużytku.
Z punktu widzenia rolnika, którego interesuje wydzierżawienie gruntu pod farmy fotowoltaiczne, najważniejsze jest potwierdzenie klasy gleby, ale tym zajmują się specjaliści Green Genius. Z reguły grunty pod fotowoltaikę są zazwyczaj dzierżawione tam, gdzie ziemia leży odłogiem lub uprawa jest niezbyt dochodowa.
Grunty pod fotowoltaikę a miejscowy plan zagospodarowania przestrzennego
Miejscowy plan zagospodarowania przestrzennego to dokument określający przeznaczenie danego terenu. Wynika z niego bezpośrednio, jaki charakter może mieć zabudowa na poszczególnych działkach należących do wskazanego obszaru. Za sporządzenie miejscowego planu zagospodarowania przestrzennego odpowiadają samorządy.
Grunty pod fotowoltaikę są atrakcyjne dla inwestorów szczególnie tam, gdzie miejscowy plan zagospodarowania przestrzennego nie został zatwierdzony. Zdarza się również, że MPZP istnieje, lecz nie wyklucza w żaden sposób możliwości postawienia farmy PV. Rozważając wydzierżawienie gruntu inwestorowi, warto w pierwszej kolejności sprawdzić, czy budowa jest możliwa.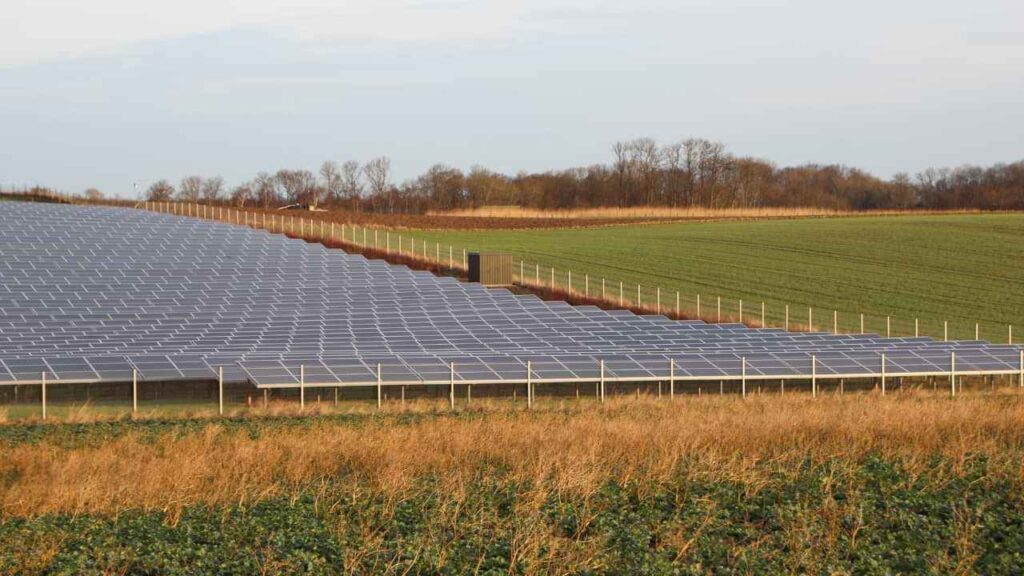 Minimalna powierzchnia gruntów pod fotowoltaikę
Nawet jeśli potencjalne grunty pod fotowoltaikę spełniają wszystkie wymogi prawne, zdarza się, że postawienie farmy PV nie jest opłacalne dla inwestora. Budowa elektrowni o mocy 1 MW to zazwyczaj inwestycja wymagająca przynajmniej 3 milionów złotych. Koszty produkcji prądu oczywiście spadają, jeśli rośnie skala przedsięwzięcia. Z tego powodu to właśnie powierzchnia działki determinuje opłacalność inwestycji.
W Green Genius jesteśmy zainteresowani działkami, których powierzchnia wynosi przynajmniej 2 ha. Z naszego punktu widzenia liczy się także szerokość parceli – niezbędne minimum wynosi w tym przypadku 50 m.
Bliskość sieci elektroenergetycznej determinująca opłacalność inwestycji
Na opłacalność inwestycji w farmę fotowoltaiczną wpływa również bliskość sieci elektroenergetycznej. Doprowadzenie przyłącza wiąże się z pokaźnymi kosztami, które są niemal proporcjonalne do odległości od linii średniego lub wysokiego napięcia.
Wybierając idealne grunty pod fotowoltaikę, bierzemy pod uwagę również ten czynnik. Nasi eksperci sprawdzają czy odległość działki pod farmę fotowoltaiczną do sieci elektroenergetycznej jest wystarczająca. Ważną barierą bywa też brak drogi dojazdowej do proponowanych gruntów.
Pożądane ukształtowanie powierzchni
Nie wszystkie grunty pod fotowoltaikę pozwalają ogniwom osiągnąć ich maksymalną wydajność. Duże znaczenie ma ukształtowanie powierzchni. W polskiej szerokości geograficznej farmy PV powstają zazwyczaj na terenach płaskich lub nachylonych na południe, co zapewnia optymalny dostęp do słońca. Jednak technologia przychodzi z pomocą. Na rynku są już dostępne panele, które korygują swoje ustawienie i podążają za słońcem.
Zdarza się, że przeszkodę, ze względu na którą panele nie mogą stanąć na gruncie, stanowią rowy melioracyjne. Jeżeli działka jest wystarczajco duża, to próbujemy się odsunąć od przeszkody. Przy małej powierzchni parceli, może się to okazać jednak niewykonalne. Inwestycja nie może zostać przeprowadzona również na terenach podmokłych.
Obszar niezacieniony
Panele fotowoltaiczne powinny od świtu do zmierzchu być w pełni oświetlone przez promienie słoneczne. Zacienienie ogniw nie tylko wpływa negatywnie na ich wydajność, ale może również prowadzić do uszkodzenia instalacji. Gdy teren potencjalnej inwestycji znajduje się w bezpośrednim sąsiedztwie wysokich drzew, budynków lub innych obiektów rzucających cień, działka, a przynajmniej jej część, nie nadaje się do budowy elektrowni.
Interesuje cię wydzierżawienie gruntu pod fotowoltaikę, a twoja działka spełnia wymienione kryteria? Skontaktuj się z nami w celu przeprowadzenia bezpłatnego audytu!