Czy czynsz będzie waloryzowany?
Boom na fotowoltaikę w postaci farm słonecznych o dużej mocy trwa od co najmniej kilku lat. W tym czasie znacznie wzrósł czynsz dzierżawy farmy fotowoltaicznej, który inwestor co roku płaci właścicielowi ziemi w ramach umowy. Obecnie wydzierżawiający mogą liczyć na przychody sięgające nawet 15 000 zł z hektara. Stawki rynkowe ustabilizowały się na wysokim poziomie, więc coraz więcej rolników rozważa skapitalizowanie posiadanej ziemi właśnie w ten sposób. Niepokój wzbudza wysoki poziom inflacji, jakiego doświadczyliśmy w ubiegłym roku i który prawdopodobnie utrzyma się jeszcze przez wiele miesięcy. Czy istnieje waloryzacja czynszu farmy fotowoltaicznej, która zabezpiecza interesy właścicieli ziemi? Wyjaśniamy!
Czynsz dzierżawy farmy fotowoltaicznej na przestrzeni trzech dekad
Dzierżawa gruntu pod fotowoltaikę we współpracy z Green Genius trwa przez 29 lat. Tyle w przybliżeniu wynosi żywotność ogniw PV, które z biegiem lat tracą część swojej pierwotnej wydajności. Okres trwania umowy nie jest jednak związany z kwestią zasiedzenia, nie trzeba się więc obawiać, że dzierżawca "zasiedzi" działkę. Zasiedzenie nieruchomości jest możliwe tylko wtedy, gdy jej posiadacz włada nią jak właściciel, zaś dzierżawca wykonuje jedynie swoje uprawnienia wynikające z umowy dzierżawy.
Czynsz dzierżawy farmy fotowoltaicznej to niezwykle atrakcyjna perspektywa. Zapewnia właścicielowi gruntu stały pasywny dochód, ponieważ wydzierżawiający nie musi ponosić żadnych kosztów inwestycji, a jedynie rozlicza uzyskany przychód z Urzędem Skarbowym – najczęściej na zasadzie zryczałtowanego podatku od przychodów ewidencjonowanych wynoszącego 8,5%.
Oczywiście podpisanie umowy na tak długi okres stanowi bardzo poważną decyzję, a podejmując ją, należy uwzględnić wiele czynników. Co istotne, nieruchomość w trakcie trwania umowy może być sprzedana, a także odziedziczona lub przekazana w ramach darowizny. Stroną umowy staje się kolejny właściciel, który w ten sposób zyskuje również prawo do czerpania dochodów z czynszu.
Drugą bardzo ważną kwestię stanowi inflacja. W ciągu trzech dekad siła nabywcza pieniądza naturalnie znacznie się zmniejszy, nawet jeśli aktualny kryzys zostanie za jakiś czas opanowany. W jaki sposób właściciele ziemi mogą się zabezpieczyć, sprawiając że czynsz dzierżawy farmy fotowoltaicznej pozostanie adekwatnie wysoki?
Waloryzacja czynszu farmy fotowoltaicznej
Odpowiedzią jest waloryzacja czynszu farmy fotowoltaicznej. Prawo w żaden sposób nie zobowiązuje inwestorów do uwzględnienia takiego rozwiązania w umowie proponowanej wydzierżawiającemu działkę, jednak biorąc pod uwagę długość trwania umowy, jest to dla właściciela działki rozwiązanie bardzo korzystne. Z kolei ewentualna waloryzacja czynszu farmy fotowoltaicznej w oparciu o inne wskaźniki niż roczna stopa inflacji wydaje się bardzo ryzykowna.
Bez odpowiedniego zapisu w umowie, rzeczywista wartość czynszu będzie spadała w ciągu kolejnych lat. W Green Genius waloryzacja czynszu farmy fotowoltaicznej o roczną stopę inflacji jest standardem.
Waloryzacja czynszu farmy fotowoltaicznej – symulacja
Aby uświadomić sobie, jak bardzo istotna jest konstrukcja umowy uwzględniająca waloryzację, wystarczy wziąć pod uwagę roczną stopę inflacji w roku 2022, która wyniosła 14,4 %. To efekt aktualnego kryzysu ekonomicznego, ale trudno przypuszczać, by poziom inflacji uległ nagłemu zahamowaniu.
Nie da się przewidzieć, co będzie się działo w gospodarce w ciągu trzech dekad, jednak korzystając z danych z poprzednich lat, można przeprowadzić przykładową symulację.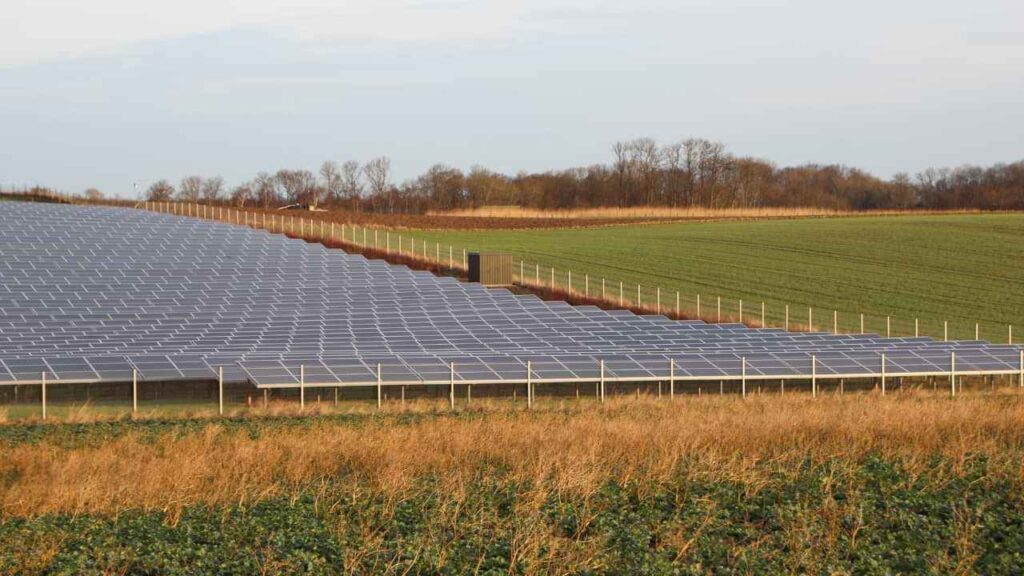 Symulacja dochodów z wydzierżawienia gruntu
Wyobraźmy sobie, że pan Kowalski i pan Nowak decydują się na wydzierżawienie identycznej działki o powierzchni 2 hektarów pod budowę farm fotowoltaicznych. Na tej podstawie co roku mają otrzymywać czynsz wynoszący 30 000 zł. Pan Kowalski podpisał umowę uwzględniającą waloryzację czynszu, zaś pan Nowak – umowę, która takiej waloryzacji nie przewiduje.
Do symulacji posłuży wartość inflacji w Polsce z ostatnich 28 lat, począwszy od roku 1995. Wówczas w naszym kraju szalała dwucyfrowa inflacja związana z transformacją ustrojową, która w porównaniu z rokiem 1994 sięgnęła aż 28%. Na przełomie wieków sytuacja ustabilizowała się i po raz kolejny dwucyfrową wartość zaobserwowaliśmy w ubiegłym roku. Średnia wysokość rocznej inflacji w latach 1995-2022 wynosiła 5,5%. Taką wartość uwzględnimy w naszej symulacji.
Jak przychody z czynszu będą zmieniać się w kolejnych latach?
Pan Nowak co roku może liczyć na dokładnie 30 000 zł. Czynsz dzierżawy farmy fotowoltaicznej pana Kowalskiego już po pierwszym roku wzrośnie do 31 650 zł. Po pięciu latach wysokość czynszu sięgnie 39 208 zł. Po 13 latach trwania umowy przychód pana Kowalskiego będzie wynosił już dwa razy więcej niż pana Nowaka, bo 60 173 zł.
Po 29 latach ostatnia wypłata czynszu z tytułu dzierżawy przekroczy 134 000 zł. W tym czasie pan Nowak, który podpisał umowę z nieuczciwym inwestorem co roku będzie otrzymywał zaledwie 30 000 zł.
Jak widać, waloryzacja czynszu, to zapis który relanie chroni interes majątkowy wydzierżawiającego w związku z corocznym wzrostem inflacji.