Czym jest falownik fotowoltaiczny?
Fotowoltaika stanowi dziś jeden z najkorzystniejszych sposobów zasilania w prąd elektryczny nie tylko gospodarstwa domowego, ale i większych struktur, np. zakładów  produkcyjnych. Po inwestycji w instalację PV prąd staje się niemal darmowy, a właściciel budynku może magazynować energię lub stać się prosumentem, czyli jednocześnie konsumentem i producentem prądu. Wraz ze wzrostem popularności tej technologii, rośnie również świadomość na temat dostępnych na rynku urządzeń.
Obecnie bardzo wiele mówi się o modułach fotowoltaicznych, ale dla wydajnego działania instalacji konieczne jest również jej serce i swoiste centrum dowodzenia, czyli falownik fotowoltaiczny. Czym dokładnie jest i w jaki sposób działa to urządzenie, które powszechnie wykorzystuje się zarówno w domowych instalacjach, jak i na dużych farmach solarnych?
Schemat działania instalacji fotowoltaicznej
Każda instalacja fotowoltaiczna, na małą skalę – domowa, ale i na większą – farma słoneczna, pobiera energię przy pomocy modułów fotowoltaicznych, których budowę i działanie omawiamy w oddzielnym wpisie. Energia czerpana z modułów fotowoltaicznych może zostać zmagazynowana, co pozwoli zapewnić dostęp do prądu w momencie braku odpowiedniej ilości energii słonecznej, przede wszystkim nocą, jak również w trakcie niesprzyjającej pogody lub zbyt dużego zachmurzenia.
Taką instalację, zdolną do magazynowania energii, nazywa się instalacją off-grid. Z kolei instalacje on-grid – pozbawione akumulatorów – są podłączone do sieci energetycznej, oddając do niej nadwyżki. Od 2022 przedsiębiorstwa korzystające z własnej instalacji fotowoltaicznej zostały zobowiązane prawnie do przyłączenia się do sieci publicznej, co ma zapobiec nadmiernemu magazynowaniu energii. Choć warto podkreślić, że firmy nastawione są zazwyczaj na autokonsumpcję, a eksport mocy, starają się, by był niemal zerowy. Jednak zanim energia elektryczna trafi do magazynu lub sieci, prąd stały musi zostać zamieniony na prąd zmienny, czyli taki, który jest dostępny w gniazdkach i z którego korzysta większość urządzeń.
Falownik fotowoltaiczny – wytwarzanie prądu zmiennego
Na tym etapie do gry wkracza falownik fotowoltaiczny (zwany również inwerterem). Z takich urządzeń, w skali mikro, korzystają gospodarstwa domowe, a w skali makro każda farma słoneczna. Jego głównym zadaniem jest odwracanie kierunku przepływu prądu. Urządzenie pracuje z określoną sprawnością, która zależy między innymi od aktualnego nasłonecznienia. Oznacza to w praktyce, że w europejskich warunkach falownik fotowoltaiczny generuje straty sięgające kilku procent. Oprócz tego inwerter ma kilka dodatkowych funkcji:
monitorowanie działania instalacji fotowoltaicznej;
funkcja bezpieczeństwa polegająca na wyłączeniu instalacji w przypadku usterki;
synchronizacja instalacji z siecią, czyli zliczanie wyprodukowanego prądu;
zwiększanie efektywności instalacji w warunkach domowych poprzez wzrost konsumpcji energii przez wybrane urządzenia w trakcie produkcji nadwyżki prądu.
Dodatkowo nowoczesny falownik fotowoltaiczny działa jako regulator solarny MPPT. Wyszukuje maksymalny punkt mocy, czyli napięcia i natężenia, dla których instalacja osiąga najwyższą moc, co zwiększa efektywność wykorzystywanych modułów fotowoltaicznych.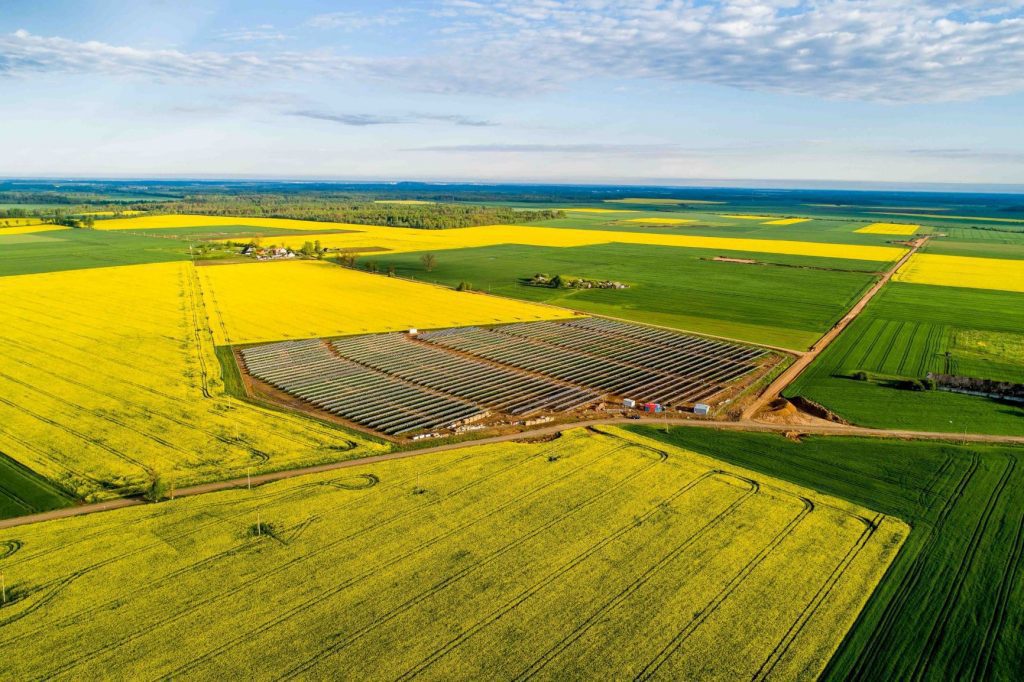 Zasada działania inwertera solarnego
Każdy falownik fotowoltaiczny zbudowany jest między innymi z prostownika, który zasilany prądem przemiennym odpowiada za prostowanie napięcia na napięcie stałe. Drugi element stanowi stopień pośredni, składający się z kondensatorów. Jego zadaniem jest stabilizacja napięcia stałego zanim przejdzie do stopnia końcowego, który składa się z tranzystorów. Tutaj prąd stały ulega przekształceniu na określony prąd zmienny. W każdym falowniku fotowoltaicznym znajduje się też układ sterowania, który monitoruje pracę instalacji i odłącza zasilanie w razie awarii.
Rodzaje falowników fotowoltaicznych
Zależnie od rodzaju sieci, jaką tworzą moduły fotowoltaiczne oraz pozostałe urządzenia, inwertery można podzielić na trzy kategorie:
Falowniki fotowoltaiczne on-grid – ten rodzaj urządzeń to inwertery podłączone do sieci, które oddają nadwyżki energii wyprodukowanej przez moduły fotowoltaiczne dystrybutorowi. Następnie w momencie niedoboru energii, prąd jest pobierany z sieci.
Falowniki fotowoltaiczne off-grid – urządzenia tego typu nie są połączone z siecią elektroenergetyczną, natomiast prąd wytworzony przez moduły fotowoltaiczne trafia za ich pośrednictwem do akumulatora.
Falowniki fotowoltaiczne hybrydowe – są przystosowane do pracy w obu rodzajach instalacji fotowoltaicznych.
Oprócz tego, falowniki fotowoltaiczne dzielą się ze względu na liczbę faz, do których są przyłączone:
inwertery jednofazowe – stosowane w instalacjach o mocy do 3,6 kW;
inwertery trójfazowe – wykorzystywane w instalacjach o większej mocy.
Moduły fotowoltaiczne a regulator solarny MPPT
Wśród urządzeń dostępnych obecnie na rynku zdecydowana większość to falowniki fotowoltaiczne wyposażone w regulator solarny MPPT. Termin ten, czyli maximum power point tracking, odnosi się do śledzenia maksymalnego punktu mocy. Oznacza on wartość napięcia i natężenia, dla której moduły fotowoltaiczne osiągają najwyższą moc. Inwerter wyposażony w regulator solarny MPPT działa w sposób dynamiczny, na bieżąco dokonując korekty, ponieważ maksymalny punkt mocy nie jest stały i zmienia się między innymi ze względu na aktualny stopień zacienienia, jakiemu poddane są moduły fotowoltaiczne.
Im szybciej urządzenie reaguje na zmiany, tym jego wydajność jest wyższa. Współczesne instalacje fotowoltaiczne, wyposażone w regulator solarny MPPT, są w stanie uzyskać nawet o 20% więcej mocy w porównaniu do starszych falowników fotowoltaicznych, które nie były wyposażone w ten układ.