Jak działa farma słoneczna?
Polska przechodzi transformację energetyczną, powoli zastępując energię czerpaną z paliw kopalnych zieloną energią, zapewnianą między innymi przez słońce. Panele fotowoltaiczne, które dostarczają prąd do gospodarstw domowych można z łatwością dostrzec na dachach polskich domów jednorodzinnych, ale to samo rozwiązanie stosuje się również w skali makro. Farma słoneczna składa się z wielu paneli o łącznej mocy kolektorów sięgającej kilku, a nawet kilkudziesięciu MW, zapewniając prąd całej gminiew domach lub przedsiębiorstwuprzedsiębiorstwach. Działa jak prawdziwa farma elektrowni słonecznych. Oznacza to uniknięcie emisji tysięcy ton CO2 w ciągu roku i tańszy prąd! W jaki sposób działa farma paneli słonecznych?
Farma słoneczna złożona z półprzewodników
Pod wieloma względami duża farma słoneczna działa w dokładnie taki sam sposób jak fotowoltaika w gospodarstwach domowych. O powstawaniu prądu decydują bowiem te same prawa fizyki i taka sama technologia. Farma słoneczna składa się po prostu z większej liczby paneli położonych na płaskim lub pochylonym w kierunku południowym terenie, co zapewnia wyższą wydajność. Poszczególne elementy są ułożone względem siebie w sposób równoległy. Każdy z nich zawiera ogniwo fotowoltaiczne składające się z półprzewodnika, w którym zachodzi zjawisko zwane procesem fotoelektrycznym. Fotony pochodzące ze światła słonecznego pobudzają do ruchu elektrony znajdujące się w panelu, a w ten sposób powstaje napięcie elektryczne.
Farma elektrowni słonecznych w skali makro
Różnica pomiędzy domową fotowoltaiką, a farmą paneli słonecznych polega więc przede wszystkim na skali. Gospodarstwa domowe mogą przynajmniej częściowo zaspokoić swoje zapotrzebowanie na energię elektryczną poprzez ogniwa położone na dachu. Farma słoneczna musi zaopatruje w prąd zdecydowanie więcej odbiorców, a więc wymaga ułożenia paneli na o wiele większym terenie. Moc farmy elektrowni słonecznych zależy po pierwsze od wydajności paneli, a więc mocy pojedynczego modułu PV oraz ich liczby. Oczywiście na ilość wyprodukowanej energii elektrycznej wpływ ma również pogoda, a w polskich warunkach klimatycznych farma słoneczna swoją najwyższą wydajność osiąga latem.
Prąd stały, prąd zmienny
W ogniwach PV powstaje prąd stały, natomiast gniazdka elektryczne, podobnie jak przemysł, potrzebują prądu zmiennego, który zasila niemal wszystkie współczesne maszyny. Dlatego energia elektryczna z paneli fotowoltaicznych trafia do kolejnego urządzenia, czyli falownika solarnego, zwanego też inwertorem solarnym, gdzie jest przekształcana w prąd zmienny, czyli płynący naprzemiennie w obu kierunkach. Falownik solarny działa z określoną sprawnością wyrażoną w procentach, która określa, jak wiele energii ulega transformacji. Efektywność inwertora zależy od poziomu nasłonecznienia, które w europejskich warunkach nie zawsze jest optymalne, a więc zazwyczaj występują tu drobne straty.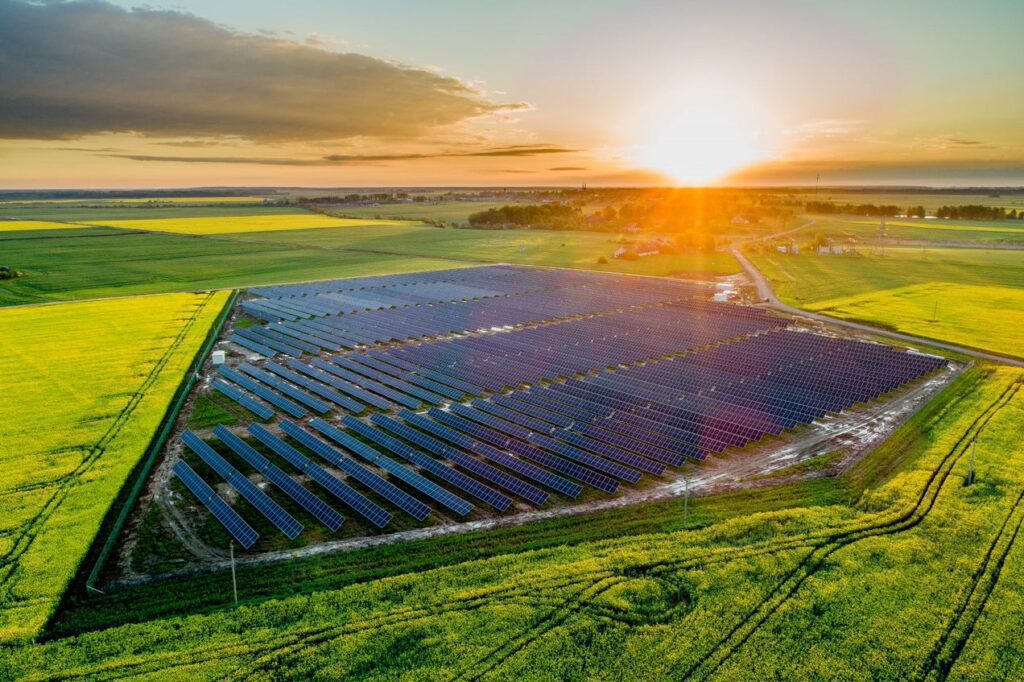 Próg opłacalności i wysoki zwrot z inwestycji
Skoro wysokoemisyjna energetyka i ogromne zanieczyszczenie powietrza stanowią w Polsce problem od dziesięcioleci, dlaczego farmy paneli słonecznych, podobnie jak w innych europejskich krajach, powstają od stosunkowo niewielu lat? O wszystkim decydują oczywiście koszty. Jak to bywa z wieloma technologiami, farmy słoneczne, podobnie jak cała fotowoltaika, z roku na rok stają się coraz tańsze. W ciągu ostatniej dekady koszt wyprodukowania 1 MW uległ kilkukrotnemu zmniejszeniu, a farma słoneczna stała się bardzo konkurencyjna dla innego zielonego źródła energii, czyli energetyki wiatrowej. Obecnie inwestor może osiągnąć zwrot kosztów nawet po niepełnych 10 latach. Inwestycja w farmę słoneczną jest opłacalna z jeszcze jednego powodu – jej przyszły właściciel ma aktualnie spore szanse na uzyskanie dofinansowania z funduszy unijnych lub rządowych albo preferencyjnych warunków kredytowych.
Sprzedaż energii z farmy słonecznej
Energia elektryczna wyprodukowana na farmie słonecznej trafia ostatecznie do siecifinalnych odbiorców. Na jakich zasadach odbywa się jej sprzedaż? Właściciel farmy słonecznej ma do wyboru kilka sposobów, do których należą:
Sprzedaż energii elektrycznej na aukcjach OZE – dotyczy to sprzedaży hurtowej, w której inwestor składa swoją ofertę, a po jej zatwierdzeniu podpisuje umowę i kontraktuje energię.
Sprzedaż bezpośrednia – w ten sposób prąd z farmy paneli słonecznych może być sprzedawany do przedsiębiorstw, jednostek samorządu terytorialnego, a także operatorów energetycznych, ale nie do prywatnych odbiorców
Sprzedaż przez pośredników – na rynku działają wyspecjalizowani pośrednicy, dzięki którym energia może trafiać do tradycyjnych odbiorców albo na giełdy energetyczne.
Farma paneli słonecznych jako dobre rozwiązanie dla właścicieli nieużytków
Zanim powstanie farma słoneczna, konieczne jest sporządzenie niezbędnej dokumentacji projektowej, zakup modułów fotowoltaicznych, falowników solarnych i innych urządzeń, a także ich instalacja. Kluczową rolę w inwestycji odgrywa wybór gruntu pod farmę. W Green Genius oferujemy właścicielom nieużytków gruntów rolnych o powierzchni co najmniej 2 ha wieloletnią dzierżawę terenu pod budowę farmy fotowoltaicznej. Wystarczy płaskie lub nachylone w kierunku południowym ukształtowanie powierzchni, dostęp do linii elektroenergetycznej, a także usytuowanie na terenie niezalewowym, niezadrzewionym i pozbawionym rowów melioracyjnych. Niezbędna jest jeszcze odpowiednia klasa gleby IV, V lub VI.
Nasza oferta współpracy skierowana jest też do przedsiębiorstw, które pragną czerpać prąd z odnawialnych źródeł energii. Proponujemy budowę instalacji fotowoltaicznej na dachu przedsiębiorstwa albo założenie farmy fotowoltaicznej poza terenem zakładu. Taka inwestycja jest w stanie zaspokoić nawet 100% zapotrzebowania na dostawy prądu!