Jak zbudowane jest ogniwo fotowoltaiczne?
Fotowoltaika, zarówno w formie domowych instalacji, najczęściej układanych na dachach, jak i dużych farm słonecznych, w ostatnich latach stanowi jeden z najgorętszych trendów w energetyce. Nic dziwnego – panele fotowoltaiczne to źródło darmowej i ekologicznej energii, które zazwyczaj działa z najwyższą efektywnością przez co najmniej 25 lat. Koncentrując się na kwestiach ekologicznych i ekonomicznych, czyli ogromnych oszczędnościach wynikających z zainstalowania fotowoltaiki, rzadziej zastanawiamy się, w jaki sposób działa ogniwo fotowoltaiczne, które tworzy panele słoneczne i jaką rolę odgrywa w nim krzem krystaliczny.
Dziś postaramy się wyjaśnić tę kwestię, przy okazji omawiając dostępne na rynku popularne rodzaje ogniw fotowoltaicznych, a także różnice pomiędzy nimi a kolektorami słonecznymi.
Czym jest ogniwo fotowoltaiczne?
Ogniwo stanowi podstawowy element instalacji fotowoltaicznej. To właśnie z nich zbudowane są panele słoneczne układane na dachach. Podobnymi panelami jest pokryta działka pod fotowoltaikę, która, w odróżnieniu od domowych instalacji, służy produkcji energii na większą skalę i stanowi samodzielną elektrownię. Zadaniem ogniwa fotowoltaicznego jest produkcja energii elektrycznej z promieni słonecznych. Na modułach solarnych ogniwa mogą być ułożone równoległe lub szeregowo.
Krzem krystaliczny – jak działa ogniwo fotowoltaiczne?
Jak w każdym procesie produkcji, również w fotowoltaice, energia nie powstaje "za darmo". Ogniwo fotowoltaiczne, które tworzy panele słoneczne, jest skonstruowane w taki sposób, aby zamieniać energię słoneczną na energię elektryczną, która następnie trafia do akumulatora lub sieci. Płytki ogniw fotowoltaicznych powstają z krzemu krystalicznego, na którym znajdują się pojedyncze elektrony. Pojedyncze jednostki światła, czyli fotony, padając na krzem krystaliczny zostają pochłonięte przez płytkę i w ten sposób wybijają pojedyncze elektrony z wcześniejszej pozycji, zmuszają je do ruchu, a tym samym generują przepływ prądu elektrycznego.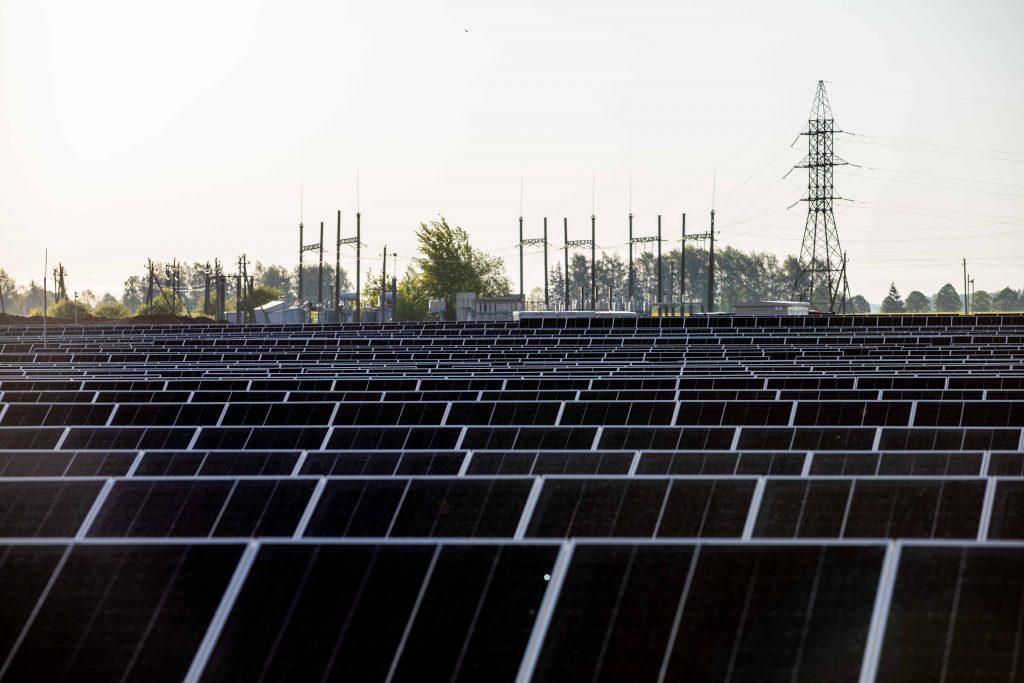 Warto pamiętać, że krzem krystaliczny, z którego zbudowane jest każde ogniwo fotowoltaiczne, wytwarza w ten sposób prąd stały, natomiast domowe gniazdka są zasilane przy pomocy prądu zmiennego. Dlatego energia elektryczna, zanim trafi do sieci, akumulatora lub bezpośrednio do domowych urządzeń, musi zostać przekształcona w prąd zmienny. Za transformację energii, zarówno w domowych instalacjach, jak i w przypadku farm solarnych, odpowiadają urządzenia zwane falownikami bądź inwerterami fotowoltaicznymi.
Ogniwo fotowoltaiczne składa się z dwóch warstw półprzewodnika. Na pierwszej, cienkiej warstwie krzemu krystalicznego umieszczona jest elektroda ujemna oraz powłoka antyrefleksyjna. Poniżej znajduje się grubsza warstwa, a pod nią elektroda dodatnia. Pomiędzy warstwami można natomiast znaleźć złącze.
Czym wyróżniają się najpopularniejsze rodzaje ogniw fotowoltaicznych?
Panele solarne mogą być tworzone z różnych ogniw fotowoltaicznych. Obecnie na rynku dominują trzy technologie, z których każda wykorzystuje oczywiście krzem krystaliczny w roli półprzewodnika. Należą do nich:
ogniwa monokrystaliczne,
ogniwa polikrystaliczne,
ogniwa amorficzne.
Ogniwa monokrystaliczne, zgodnie ze swoją nazwą, są wykonywane z monolitu krzemu krystalicznego, zazwyczaj o średnicy 30 cm. W procesie produkcji krzem krystaliczny dzieli się na cienkie płytki, z których każda ma grubość około 2 mm. Z kolistych płytek wycina się następnie ośmiokątne lub kwadratowe. Ogniwa tego typu charakteryzują się najwyższą sprawnością (na poziomie 17%), a można je rozpoznać po czarnej lub granatowej barwie.
Ogniwa polikrystaliczne wytwarza się z wykrystalizowanego krzemu, również podzielonego na cienkie, kwadratowe płytki. Wyróżniają się one niejednolitą powierzchnią, na której można dostrzec krzem krystaliczny. Ogniwa fotowoltaiczne tego typu mają niższą sprawność, sięgającą około 14%, ale są tańsze, więc stanowią dobry wybór w przypadku większego dachu. Wizualnie można je rozpoznać po niebieskim kolorze.
Ogniwa amorficzne, zgodnie ze swoją nazwą, są zbudowane z amorficznego krzemu krystalicznego. Ich wydajność sięga zaledwie 8%, ale wyróżniają się niską ceną. W promieniach słońca przyjmują charakterystyczny, bordowy kolor.
Czym ogniwo fotowoltaiczne różni się od kolektora słonecznego?
Mimo rosnącej wiedzy na temat fotowoltaiki, zwłaszcza w domowym wydaniu, ogniwa fotowoltaiczne bywają mylone z kolektorami słonecznymi. Na czym polega różnica pomiędzy tymi technologiami? O ile ogniwo fotowoltaiczne jest przeznaczone do wytwarzania prądu, który ma następnie uniwersalne zastosowanie, o tyle kolektory słoneczne mają dość wąską specjalizację – zmieniają energię słoneczną na energię cieplną. Są zbudowane z absorbera pochłaniającego energię, która następnie zmieniana jest na ciepło i za sprawą nośnika ogrzewa domową wodę użytkową. Po przekazaniu energii cieplnej nośnik wraca do kolektora, a proces może się powtórzyć.
Kiedy opłaca się zainwestować w instalację fotowoltaiczną?
Tak naprawdę korzystanie z ogniw fotowoltaicznych opłaca się w praktycznie każdej sytuacji, bo są one źródłem darmowej energii elektrycznej. Panele składające się z ogniw fotowoltaicznych mogą być układane na działce albo na dachu budynku, co jest popularne w gospodarstwach domowych.